We all new this would come at some point...carrots were the first vegetable to ever be mentioned on thefruit wikia

they were first mentioned on the apple page...that reminds me we dont have an article for apple school yet...
anyway....they are poisonous i guess...dont eat them...and remember..eat the magic apples if you were poisoned
stay in drugs
dont do sleep
always drink your school
and get 8 hours of milk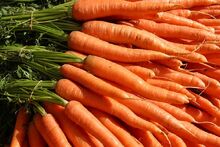 Ad blocker interference detected!
Wikia is a free-to-use site that makes money from advertising. We have a modified experience for viewers using ad blockers

Wikia is not accessible if you've made further modifications. Remove the custom ad blocker rule(s) and the page will load as expected.